Corona Castle is the main location of Tangled: The Series, and is commonly addressed as a castle and kingdom of the land - Corona.
Currently, King Frederic and Queen Arianna rule from the castle as rulers Corona.
Appearance
Corona Castle is gleamed with yellow and the main sun symbol of Corona is shown at the center of the entrance.
Corona is idolized by its magnificent colors of contrast, and how they gleam to praise the sun.
Gallery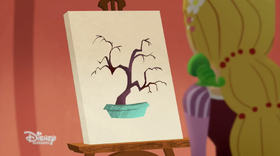 Click here to view the gallery for this article.
References