Old Lady Crowley
is one of the
castle
servants who appears in
Tangled: The Series
. She is a grumpy old lady who is known to never smile, earning her the nickname "Scowley Crowley". She is often seen sweeping the castle floors. The one and only thing that puts a smile on Crowley's face is peace and quiet.
History
In One Angry Princess, she mistakes Big Nose for Attila.
In Happiness is... Rapunzel envisioned her.
Trivia
Gallery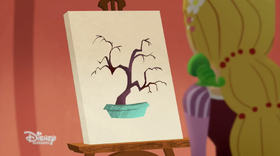 Click here to view the gallery for this article.
References
v

•

e

•

d

Tangled: The Series Characters