Quirin is a recurring character of the first season in Tangled: The Series. Quirin is the leader of Old Corona, a village located in Corona and is the father of Varian.
He also worries for his son, as most of his inventions lead to trouble, sometimes life-threatening, despite well-meaning intentions. As the number of the black rocks continued to grow to the point of destroying his village, he promised the villagers that he would alert the King of the predicament. Varian went with him to Corona and saw his father lying about the state of their village; as he began to believe that Quirin is running away from their problem. Quirin saw this and told Varian to, once again, stay away from the rocks and refrain from interacting with them; in which Varian disobeyed.
When Quirin got sealed in a crystal-like amber, along with the letter that he had written to his son, Varian had made it his quest to save him.
Background
Edit
Physical appearance
Edit
Quirin is a middle-aged man with brown eyes wearing red and brown village clothing. He has a mark on the back of his hand, that is of a circle with three lines close to the center and near the left side edge of it. The mark is also on the lid of a hidden chest and on a helmet that is in it.
Quirin, after touching and being exposed to the Black Rocks, soon began to fall into the crystal and become trapped in it, infinitely. Varian tries to get his father out, however, all methods do not seem to work.
TBA The mark is also on the lid of a hidden chest and on a helmet that is in it.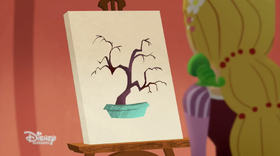 Click here to view the gallery for this article.
References
Edit
v

•

e

•

d

Tangled: The Series Characters