Uumlaut is a little critter that appears in the first season of Tangled: The Series. She was meant to be a birthday present to Queen Arianna from her traveling sister, Willow, but after the events of The Way of the Willow, Willow brought the little critter with her as she continued her travels.
History
In The Way of the Willow, Arianna's sister Willowmina gave her an uumlaut as a birthday gift. Later while watching a meteor shower with Willow and Rapunzel, the queen's new pet's ringing got on the queen's nerves and she tossed the toy, then the being started creating new uumlauts at an uncontrollable rate. It tookteamwork to retrieve the toy to stop the madness.
Trivia
These cute creatures are quite rare.
If an uumlaut does not have its bell, it will continually reproduce - through its mouth with no saliva on - its spawn. Once it has the toy back it will swallow the kin back into a hammerspace belly.
Gallery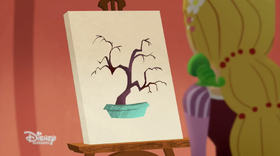 Click here to view the gallery for this article.
References
v

•

e

•

d

Tangled: The Series Characters